AVA's Unique Creation of their Round Robin Scoring System
July 7, 2023 AVA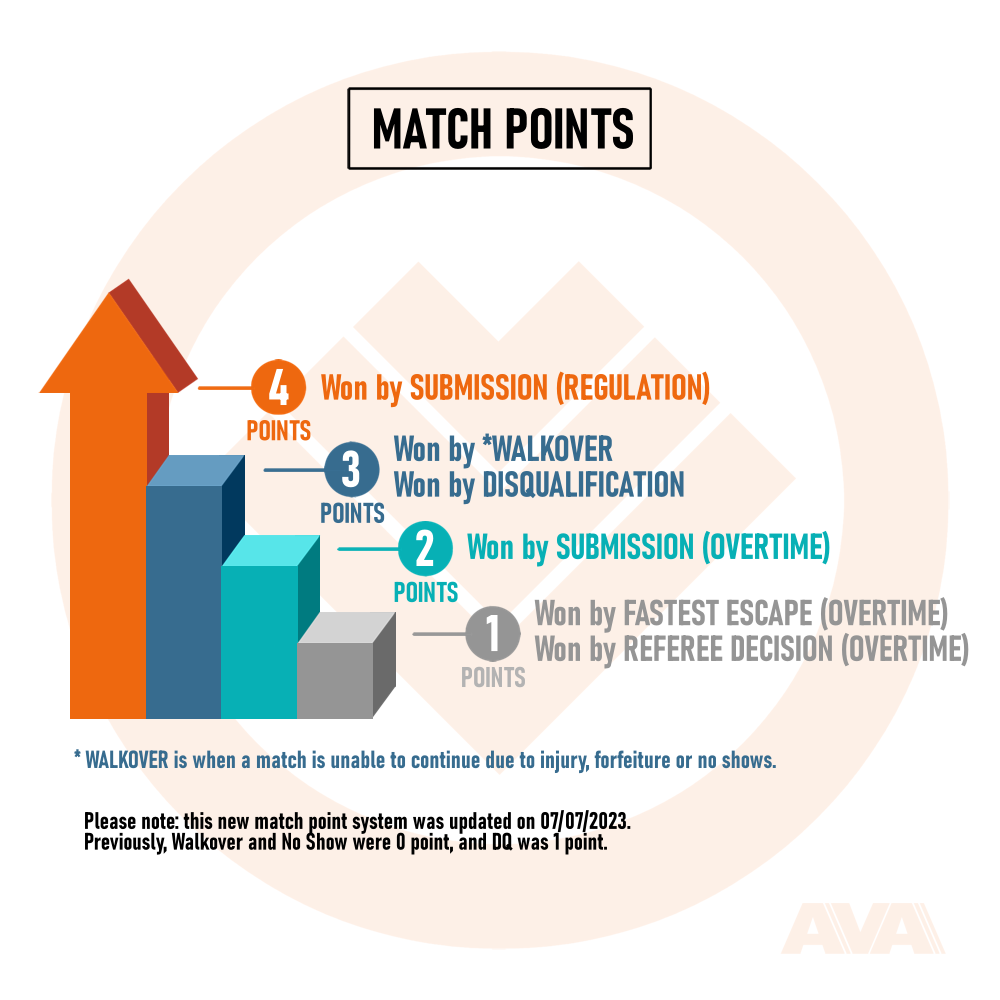 We are very proud to describe the AVA's distinct Round Robin scoring system – a creation of our own that has taken shape through continuous refinement since the very inception of AVA.
Our scoring model stands apart from the rest, featuring a set of unique, well-calibrated rules that have evolved through trial and error. With the objective of rewarding competitors for strategic submission-based gameplay, we've ensured that our system encourages and values submissions secured within regulation time.
Here's a quick breakdown:
Submission Victory in Regulation: We understand the value of a well-executed submission during the regulation time, hence victors are awarded 4 points.
Submission Victory in Overtime: Pulling off a submission in overtime isn't easy. Therefore, the victorious grappler secures 2 points.
Fastest Escape (only in overtime): Agility is key, and the quickest escaper is rewarded with 1 point.
Victory by Decision: Still rewarded with 1 point.
Walkover Victory: Grapplers who win due to injury, forfeit, or no show of the opponent are granted 3 points. This recent adjustment to our system ensures fairness and acknowledges the lost opportunity to gain a submission. (UPDATED AS OF JULY 7, 2023)
Victory by Disqualification: Just like walkovers, competitors who win due to their opponent's disqualification also earn 3 points, maintaining fairness by compensating for the lost opportunity of a submission. (UPDATED AS OF JULY 7, 2023)
In every rule and scoring mechanism, we've maintained a central emphasis on the value of securing submissions. We're extremely proud of how our system promotes competitive, fair, and dynamic grappling – further testament to AVA's dedication to constantly evolve and improve our league for competitors, teams and spectators alike.
AVA is proud to stand as the pioneer of this innovative and fair scoring system, continuing our journey in transforming the sport of grappling.